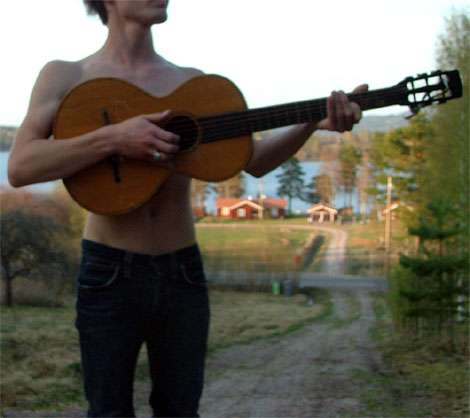 In many ways writing about Scandinavian singer/songwriter Kristian Matsson a/k/a The Tallest Man on Earth is quickly becoming one of the more difficult tasks in music journalism. Tallest Man feels, at first blush, like part of that writer's workshop rejected acoustic guitar-toting set of troubadours that litter indie-rock airwaves and (almost cloyingly) occupy your girlfriend's iPods, but he merits exclusion. And this is where it gets tricky—I've found myself at the ultimate cliche—how do I defend his "Dylanesque" qualities over his peers, or differentiate his intimate, bedroom recordings without succumbing to trite reductive bickering?
Matsson might stand head and shoulders above his fellow folkies because he's embraced Dylan's penchant for mystique—even his agent refers to him as The Tallest Man on Earth or shortening it to "The Man." The Man has a voice and vernacular that would have been retro when a young Robert Zimmerman was still cutting his teeth in Greenwich Village. You might be able to chock some of his wild verbiage up to inspiration from his Swedish homeland. It might be his country of origin that adds the greatest measure to the obsurity of Mr. Matsson. One of the grandest appeals of Bob Dylan was/is his sort of other-worldly quality—how did this kid come out of Duluth, MN?—The Tallest Man has a similar quality that you can't pin down, a sort of amiable, artistic bashfulness. As though the reason for recording and performing is not for profit, choice, or ease, but because he has to.
Matsson is still touring on the heels of his well-reviewed full-length debut, Shallow Grave (Gravitron) from 2008. The album is surprising in it's deceptive scope. The Tallest Man creates sparse, quite songs that seem to, initially, belie his moniker, however, the depths he reaches with his performance are nearly unchartable. At first, most of the songs seem basic in both structure and content, but the metaphors open up past a string of relateble and beautiful images into a thick mist which envelopes you and slowly blinds you. Part of the success of Shallow Graves comes from how seeming unimposing it is. Matsson lulls you into almost complete dismissal before you realize that you can't shake his fragile melodies or see a sunset without hearing his delicate finger picking.

Download: The Tallest Man On Earth - Honey, Won't You Let Me In
Also joining The Tallest Man on Earth in the basement of the Jefferson Building are two California acts: the soulful soon-to-be arena rockers Red Cortez and the delicious indi-poppers Golden Birds (making their 3rd Mission Creek appearance!) and kicking it off at PS1 on Saturday is local, lilting favorite Caleb Engstrom (who might just have his band We are We in tow).
Who: The Tallest Man w. Red Cortez, Golden Birds, and Caleb Engstrom
When: Saturday, April 4th @ 8 pm [ALL AGES]
Where: Public Space One
Cover: $5
Or you can get yourself an all-access festival pass right here.