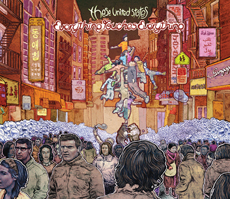 Prolific much? Today marks the third release in 18 months from the Kentucky (formerly of Iowa City) collective These United States and they've dubbed it Everything Touches Everything. Dudes have been brewing batch after batch of Dylan-inspired freak-psych-folk, this latest brew is a bit more distilled. Everything is tighter on Everything.
TUS will be trekking through the mighty Midwest in October. This trip will include two stops in the Hawkeye state: one in Grinnell and one at The Mill here in Iowa City. So it won't be too long before we hear more from these guys.
We've got the title track streaming and album opener "I Want You To Keep Everything" available for download below. Enjoy.

These United States - Everything Touches Everything

Download: These United States - I Want You To Keep Everything