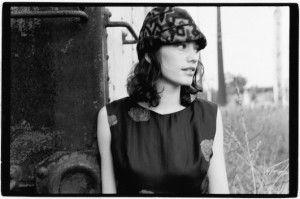 Pieta Brown is many things. She is a beautiful woman with mesmerizing lips from nowhere, Iowa. She is Greg Brown's daughter, Bo Ramsey's wife, a rising singer-songwriter, and a new member of Red House Records.
BBC called her a Folk Goddess, a title she certainly deserves — she is comfortable with herself and familiar with the stage. She has been making music since she was eight years old, spending a large portion of her "broken home" childhood alone with a piano and a notebook.
Despite having a father with a household name and a list of songs that have been covered by artists like Carlos Santana, Willie Nelson, and Lucinda Williams, Pieta should be attributed for much of her own success. Her most recent EP, Shimmer (released by Red House on November 10, 2020), materialized after producer Don Was happened upon Pieta's compelling voice in California.
For those unfamiliar with Don Was, he is known for his work with Bonnie Raitt, Bob Dylan, Willie Nelson, Iggy Pop, the Rolling Stones, and a colorful list of other artists. Mr. Was envisioned collaborating with Pieta toward an intimate, almost live recording. Thus, Shimmer is a great display of Pieta — seducing an audience with her sultry voice and emotionally-driven stories (there's just a hint of Bo Ramsey on electric guitar and Was on stand-up bass).
While her experience with Was has received a great deal of positive media attention, it was but a brief encounter. Since the release of Shimmer, a full-length album has been brought to light, though it will not be produced by Was. However, the album (her third, expected May 4, 2021) will include one song from Shimmer and a series of songs with two drummers playing simultaneously.
Prior to the release, Pieta will open for her father at the Englert on Saturday, April 3rd. Perhaps hopeful attendees will see two generations of Brown and fellow Red House artists come together on stage.

Download: Pieta Brown - Rollin' Down the Track
Who: Pieta Brown with Greg Brown
When: April 3, 2021
Where: The Englert
Cover: $30 (assigned seating) or $45 (golden circle seating)