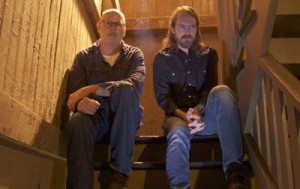 A really intriguing experimental show is taking place tomorrow night upstairs at the Blue Moose Taphouse. Once the domain largely of the Picador, shows like this - featuring avant garde music such as noise, ambient, drone, and electronic - are being forced into new domains as the venue where so many great shows like this transitions into new management.
Last year, David Daniell & Douglas McCombs released the collaborative effort Sycamore via Thrill Jockey, also home to the band in which McCombs plays bass: Tortoise. The two first worked together while touring with Rhys Chatham's Die Donnergötter guitar ensemble, and this collaboration was born.
Sycamore is instrumental, ambient, and occasionally downright abrasive improvisations built around guitars. And while the record uses other instrumentation, it remains to be seen whether the performance tomorrow will feature just guitar or not.
Iowa City guitar droner Star City, as well as Cocoon open the show.
Sycamore is available in limited runs of LP and CD format.

Download: David Daniell & Douglas McCombs - F # Song
Who: David Daniell & Douglas McCombs with Star City, Cocoon
Where: Blue Moose
When: Thursday, March 4, 9pm
Cover: $7