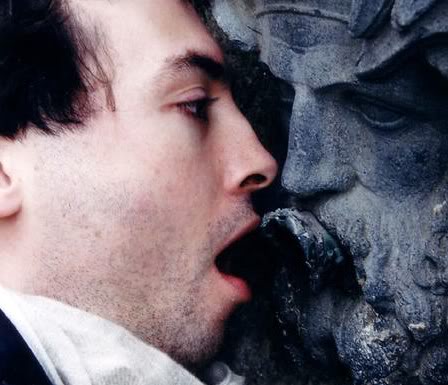 Tim Hecker is a music critic's wet dream. Every dripping piece of poetic hyperbole that can be lavished upon Hecker's latest offering will be. When the New York Times characterizes your work as "foreboding, abstract pieces in which static and sub-bass rumbles open up around slow moving notes and chords, like fissures in the earth waiting to swallow them whole," you know it's something special. That's one of the more literal descriptions of his work, actually.
Tim Hecker brings out the failed novelist or poet which beats in the heart of every blogger, rock critic, or music writer. Thesauruses get dusted off, writers go in search of new words. Where once, glacial was an acceptable adjective for a top-notch ambient recording, it will no longer serve the almost constant motion of Hecker's compositions.
An Imaginary Country doesn't so much open chasms or split along the Earth's fault lines as the critical community claimed his previous releases, Mirages (2004) and Harmony in Ultraviolet (2006) did. If his metallic sheets of distorted guitar drones rocked the planet off it's axis and left California split from the continent; if Tim Hecker gave us an aural interpretation of the chaotic events of 2012, An Imaginary Country is a glimpse of the little bits of life still left.
Hecker knocked away the tiers of guitars and revealed a clean, arid mix of synthesizers. Hecker's Imaginary Country is wind-swept and cracked, iced-over. But there's something hopeful. The sense that underneath, still further after the guitars are etched away and beneath the analog hiss of the synths, there's the potential for growth. An Imaginary Country is fertile. Maybe even a little embryonic. After sandblasting and scouring the planet, Heckers's left us with new, slightly familiar origins.
The sort of Darwinisation or Deification (whichever you prefer) of Hecker's recorded output is a bit over-blow, but Hecker's live performances are something of a rarity-like angel sightings or people hearing the voice of God. The Montreal-based composer is very much about the studio process and reserves his sparse live appearances for one-off festival gigs and special friends or musicians playing the southwest regions of Canada he calls home. In this case, our imminent encounter with Hecker is something deserving of hyperbole. So get your thesaurus out and get excited. This is an event to blow out of proportion.
Check out the bookends of Hecker's An Imaginary Country below.

Download: Tim Hecker - 100 Years Ago

Tim Hecker - 200 Years Ago
Hecker will be joined by Chicago ambient composer Greg Davis, Iowa City noise-makers Lwa, and sheets of sound producers Wind Farm on Friday, April 2nd. Doors open at 9 pm, music starts at 9:30 and it's only $8 to get in.
Check out the annals of our ever expanding festival coverage here.