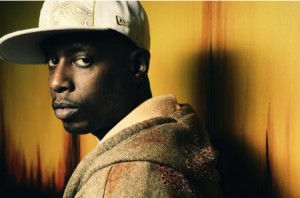 So, by now the word is fully out that rising rap star Wale has had to pull out of tonight's SCOPE semester finale due to illness. However, in a sweet twist, indie rap luminary Talib Kweli has come on to take his place and join Girl Talk for this fantastic bill. Talib Kweli, if you need a refresher course, is one half of the legendary rap duo Black Star. In Black Star, Kweli collaborated with Mos Def, releasing one album in 1998 that helped launch both their careers as well as helping push the "conscious rap" movement forward. Kweli's finest solo work has come along with DJ Hi-Tek (the American one, not the South African one). As Reflection Eternal, they released their first LP, Train of Thought in 2000. It was recently announced that they'll release their 10-year follow up, Revolutions Per Minute, later this month.
Girl Talk, the Pittsburgh DJ/not DJ headlines the show, his 3rd appearance in Iowa City in as many years. Girl Talk has risen to cultural awareness in recent years as his albums Night Ripper and Feed the Animals have blown up for their spastic and seamless mash-ups of pop music and indie music. Though the mash-up is by no means a creation of Girl Talk (Gregg Gillis), his blog ubiquity has lead many to either embrace or flat out hate the form of music. Say what you will about it, the man has undeniably been responsible for some transcendent bits of music (see his Notorious BIG/Elton John mash-up, for example). This show should be one big end of semester party, with two great acts coming to Iowa City on one night.
Tonight's show takes place in the Iowa Memorial Union Main Lounge and begins at 8pm. Limited tickets are still available at the IMU Box Office and cost 26.50 for students and 31.50 for the general public.
Download below my favorite Talib track (from the aforementioned Train of Thought, with Hi-Tek), as well as a fantastic remix from Girl Talk of Grizzly Bear's "Knife."
Audio clip: Adobe Flash Player (version 9 or above) is required to play this audio clip. Download the latest version here. You also need to have JavaScript enabled in your browser.
Download: Talib Kweli & Hi-Tek - Ghetto Afterlife (feat. Kool G Rap)
Audio clip: Adobe Flash Player (version 9 or above) is required to play this audio clip. Download the latest version here. You also need to have JavaScript enabled in your browser.
Download: Girl Talk - Knife (Grizzly Bear remix)