Our literary man on the street, Joe Tiefenthaler, sends us another head's up. Get thee to Prairie Lights if you feelin' literate.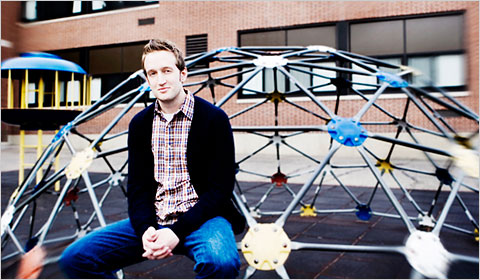 My memory's troublesome, but what I remember of the last time I heard Peter Bognanni read in public, he set the stage for an honest religious experience…WWF style. I remember spandex onesie costuming. I remember a megachurch style arena. I remember the character's religious (conversion?) experience. But what I remember most is laughing, alongside everyone else fortunate enough to have been there, its own sort of collective experience.
A native Iowan, Peter now teaches at Macalaster College in Minnesota, and will be reading from his new book, The House of Tomorrow, Tuesday evening at Prairie Lights (7pm). This time: R. Buckminster Fuller, Geodosic Dome-living in Iowa, and punk rock are served up as the ingredients for personal liberation, a (perfectly) just-coming-short-of coming of age story that you just should not miss. I know its finals week for many out there, but take a break and hit this reading up. Given his writing history, reading style, and book trailer, Peter is far from conventional, and long on this side of compelling. And if you like music, just come to geek out at the references: A glowing New York Times review, a slew of audio from Minnesota Public Radio, and peep the trailer for the book here.