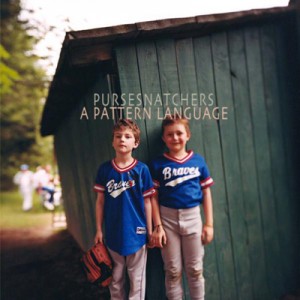 Pursesnatchers is a four piece band hailing from Brooklyn, NY like so many other bands now. After I sorting through my initial thoughts about their debut album A Pattern Language and the fact that Annie Hart from Au Revoir Simone sings on it, I still don't really know what I think about it at all. I've listened to it a few times as I do with all of the albums that I review, and I find myself struggling to find my place with it. This is not a question of love/really love or hate/really hate. This is a simple question of whether or not I like the album at all. Since I deal with television in my non-music life, I'll use a classic bit from that format: the pro-con list.
Pro: Doug Marvin and Hart provide excellent vocals. When he sings, Marvin's slightly fey voice stands out while never really overpowering the guitar sound. It makes for a particularly nice contrast on tracks such as the opener "Forever Overhead." Hart's vocals are just like those on ARS songs. They have that same sort enchanted, heartfelt feeling here as they do in that band's work.
Con: Hart isn't used enough. While Marvin does sing a lot, I would have liked to have gotten more Hart here. I think her vocals would have worked better for the overall project.
Pro: The album has a shoegaze-y vibe. It's not necessarily a Jesus and Mary Chain/ My Bloody Valentine assaulting style, but more of an early Lush/ Yo La Tengo swirling guitar style. I do love Lush, so it's nice to hear something with those dynamics and the same sort of floating. In addition to the shoegaze vibe, there are a number of synths on the album, in particular "Wet Cement." The shoegaze vibe is blended with a throbbing drum line and a floating synth noise to make a very urgent song that is immediately catchy.
Pro: The majority of the album is pretty catchy. There are some missteps like "Kissena Park," which kills the vibe on the album as a slow, Trembling Blue Stars-type track sandwiched between a heavy track and a dreamy pop song, but this song is the exception not the rule. Many of the songs are would make solid listening for a slow night on the (insert flat/stair surface here).
Con: There isn't a standout track. All of them are pretty good, but none of them are truly great. To return to the Lush reference, "De-Luxe" is a beautiful track on an otherwise lackluster Gala album. A Pattern Language doesn't have that type of song on it. The closest would be "Wet Cement." The other songs are just sort of a mix of solid jams, but nothing to really write home about. For some reason, all I can think about is MTV programming while listening to this album. I could see these songs being in the background of a MTV show like 16 & Pregnant or Skins or something. This is a bad thing to me, but others can disagree with that assessment.
As I've been thinking about this list, I've realized that I actually do like this album for the reasons that I mentioned above. I think the reason that this album has caused me problems is because it lacks an immediacy. Albums that don't have that punch are called growers. I'm a firm non-believer in the concept of the grower. I know that it's true, but I think that's a cop out to recommend a slightly sub-par album. An album should hit and make an impact immediately and only get better over time; it should not start out meh then grow into being good. This album is, unfortunately, the latter. It lacks a particular presence and fails to stick with me as a listener upon repeat listens. While I like where the band could go from the sound of A Pattern Language, Pursesnatchers still has a lot of growing to do to make songs that keep their current sound but are immediate, and memorable. If you like Yo La Tengo, Versus or TeenBeat Records bands, give this album a listen because the sound is good but don't expect to be blown away.