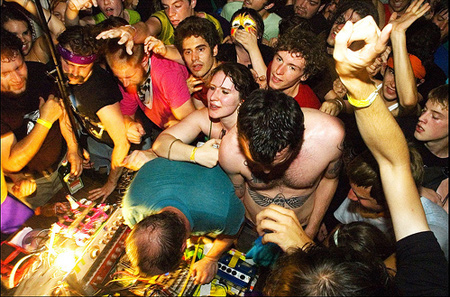 Yep, it's time to think about Iowa City's very own Mission Creek Festival. For the uninitiated, Mission Creek is a four-day arts explosion (produced by us) that takes over downtown Iowa City with concerts, readings, and film screenings. This year's dates are Wednesday, April 2nd - Saturday, April 5th. We're still in the process of programming but we got so excited we wanted to share some early confirmations!
CURSIVE will headline the festival on Friday, April 4th, bringing their beautiful and noisy indie rock to the wooden walls of the Mill. These Saddle Creek veterans are undeniable Midwest rock n' roll heroes and we can't wait for them to tear it up.
DAN DEACON will headline the festival on Saturday, April 5th at the Picador. Everyone who saw DEACON open for Girl Talk last October knows that he stole the show with a performance that was nothing short of religious. Dan, you bring on the beats, the skull, and the crystal cat. We'll bring our dancing shoes and buckets of sweat. This will be a great party.
And for all of you literary folks — this is, after all, the "writers' town" — renowned fiction writer BEN MARCUS is this year's keynote writer. Author of the daring The Age of Wire and String and head honcho of Columbia University's MFA program in creative writing, MARCUS will read on the afternoon of April 5th at the Mill.
There is so much more we want to tell you but trust me, we're working really, really hard on making this the best Mission Creek Festival yet… more updates soon!!!