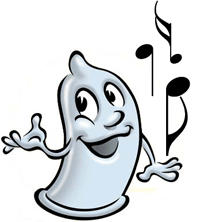 If anything makes a better pair than peanut butter and jelly, or coffee and cigarettes, it's sex and rock'n'roll.  Which is why we're stoked for the 2nd annual Emma Rocks! benefit show, which pits local bands against each other to see who reigns supreme.  The whole thing is sponsored by the Emma Goldman Clinic, who we support because we know that "a feminist approach to health care" benefits everyone.  The winner gets studio time, some gear, a music video, and some stage time at the Iowa Summer for the Arts. So, you ask, who is playing this gig? You are.
That's right, the good people at the Clinic are looking for bands to compete in this year's fest, so get your unsigned band together and get down with the application form (pdf link). Don't worry about the pesky Feb 29th deadline; they've gone and extended it to March 5. That gives you 6 days to get your act together and sign up.  Seriously, Freak readers and Mission Creek alums, I'm calling you out: if half the local talent we have signs up it could be the event of the year. (Okay, the 2nd biggest event of the year besides the Mission Creek fest).  This little rawk-off goes down on March 29th at the Englert.
Thanks to Kim at the Clinic for bringing this event to my attention.