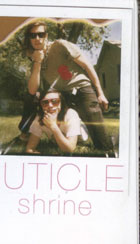 Not that you needed confirmation, but the show at the Mill on Friday night did indeed confirm that everyone from indie snobs to DiY freaks to preps, geeks, gays, straights, rockers, mods, blacks, whites and Puerto Ricans has embraced dance music in one form or another.  Dance is everywhere right now-even disco is huge again, most obviously with bands like LCD Soundsystem and Hercules and Love Affair.  But beside these straight-up beat makers, there is also a long history of dance "crossing over" into rock.  You could do some fun music-crit lineage here from Neu! to The Rapture, but if you're reading this blog than chances are you've covered this ground somewhere in the early 2000s.  Still, I think it's worth reminding ourselves that someone made a lot of money selling bumper stickers that say this. Perhaps the significance of this resurgence is not that dance is finally really meshing with rock (there have been instances of this since at least the early 70s), but that these kind of genre experiments and cross-pollinations are now wildly popular among those who might have snubbed the genre for years in favor of "real music" made by "real instruments." From its beginning, dance music has been all things not "rock": mechanized, emasculating, playful.
Nothing captures and exploits these contradictions between rockers' fascination with dance and dancers' fascination with rock right now more than the newest Cuticle mixtape.  I might be overstating it, but for a self-proclaimed "shameful take on noise and house," Iowa City label head/mixmaster/musician Brenden O'Keefe has assembled a not shameful collection that (sometimes aggressively) pushes those two genres right up against each other: The Shangri-La's up against Robert Hood, the Soft Pink Truths with Driphouse and Omar S., etc.  Cuticle's own live performances, especially with new collaborator Jeff Witscher, are some combination of house, noise, soul, and punk-if you haven't seen them, this mixtape serves as a primer, and if you have, well, then you know what you're getting yourself into.  In true DiY fashion, the mixtape is cassette only, but Brendan has digitized one for us into two 15 minute tracks (sides A and B), and scanned the art.
And if you like mixtapes, please don't forget to read about Porno Galactica and then get their mash-up mashterpiece (zip file), and do the same for Sarah Dorpinghaus' podcast.

Download: Cuticle - Baby Games I (side A)

Download: Cuticle - Baby Games I (side B)